Class Contacts:
Peter Frissell – President president@finnusa.org
Darrell Peck – Honorary president  darrell.peck@gmail.com
Glenn Selvin – Treasurer  treasurer@finnusa.org
Rodion Mazin – Secretary  secretary@finnusa.org
Marcus Ward – Webmaster webmaster@finnusa.org
Terry Greenfield – Chief Measurer measurer@finnusa.org
Rob Coutts – So Cal  socal@finnusa.org
Michael Kennedy – Nor Cal norcal@finnusa.org
Marcus Ward – Mountain  rockymountain@finnusa.org
James Bland – Texas  texas@finnusa.org
Peter Frissell – Midwest  midwest@finnusa.org
Paul Rees – South  south@finnusa.org
Al Marshall – East  east@finnusa.org
Upcoming 2019 dates:       2019 Schedule            2020 Schedule
August 16-20: CORK OCR, Portsmouth Olympic Harbour, Kingston, ON (Registration link)
August 23-25: NAC, Mission Bay Yacht Club, San Diego, CA (Registration link)                   September 14-15: PCC, San Diego Yacht Club, San Diego, CA (Registration link)
Oct 5-6: Finn Gulf Coast Championships, Buccaneer YC, Mobile, AL
Oct 19-20: Jack Dane Finn Regatta, Pass Christian Yacht Club, Pass Christian, MS
News
Kingston, Ont. – Kyle Martin showed some skills by winning ten out of ten races at CORK Olympic classes regatta. Winds, varying from 10 to 20 knots allowed for some great sailing conditions and tested competitors patience and athleticism. "I had some problems with my halyard, which came out of the lock and I would get
0 comments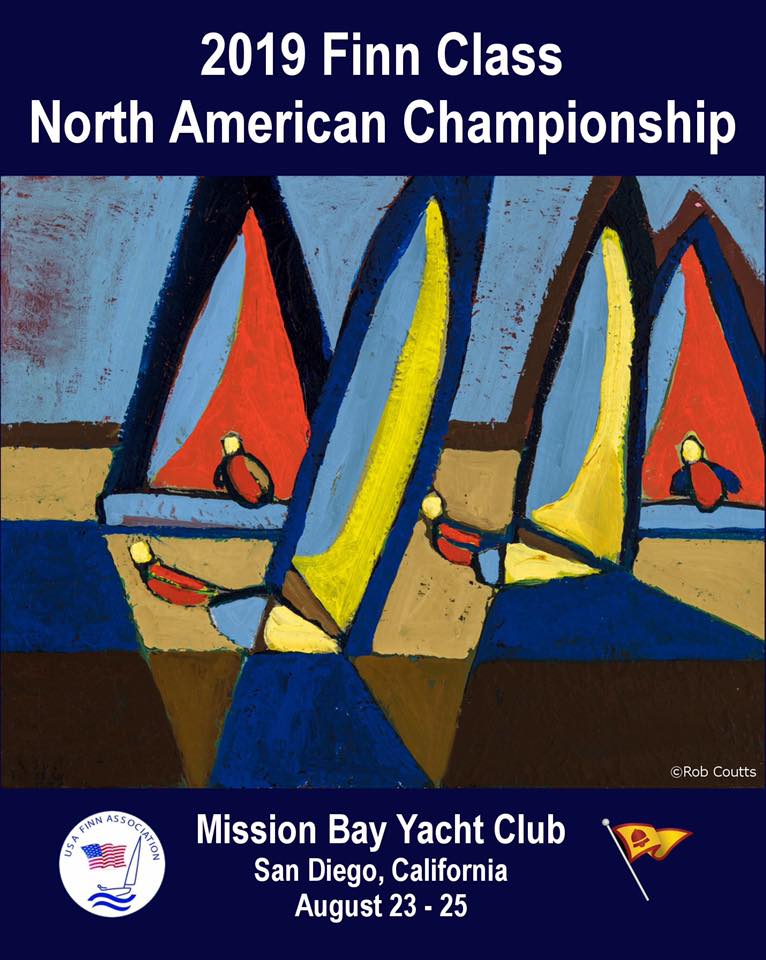 The 2019 Finn North American Championship starts on Friday, with 33 entries, this might be one of the biggest Finn regattas in North America in recent past. Light pressure with winds not to exceed 10 knots is forecasted. We hope that some stragglers like Quinton Gallon, who just placed second at the CORK Olympic classes
0 comments
It is with a very heavy heart that we must pass along the news of the passing of one of the legendary USA Finn sailors, Louis Nady. Louis started sailing Finns in the 1960s, winning the Zellerbach at St. Francis in 1967. He was an alternate on the US Olympic Team in 1972 and raced
0 comments
This is the home of the North American Finn Sailing where you will find our race calendar, information on regattas, sailing technique and advice, a forum & marketplace plus all the info you need to start Finn sailing.
The Finn is an outstanding boat originally designed by Rickard Sarby for a contest to find a boat for Scandinavian sailing and the 1952 Olympics.  Since then it has been featured in every Olympics.
An outstanding technical boat that favors boat handling and tactics over straight line speed.  With the unlimited pumping downwind in over 10 kts, it is a truly physical boat that rewards the athlete willing to work hard.
Most dinghies are built for smaller stature people but not so the Finn.  The Finn is a big man's boat with average crew weight over 200 lbs.
The great attraction of the Finn is that you don't need a brand new boat to be competitive – top regattas are regularly won by 10-yr-old boats.
A growing route in for sailors on a budget is the 'Classic with Carbon' option – any pre-1985 hull super-charged with a second-hand modern rig. Classic boats are warmly welcomed at all NA Finn Class events and are often seen in the top 10 with the Modern Race Boats.