Class Contacts:
Peter Frissell – President president@finnusa.org
Darrell Peck – Honorary presidentdarrell.peck@gmail.com
Glenn Selvin – Treasurer  treasurer@finnusa.org
Rodion Mazin – Secretary  secretary@finnusa.org
Marcus Ward – Webmaster webmaster@finnusa.org
Terry Greenfield – Chief Measurer measurer@finnusa.org
Michael Dorgan – So Cal  socal@finnusa.org
Michael Kennedy – Nor Cal norcal@finnusa.org
Darrel Peck – PNW  darrell.peck@gmail.com
Marcus Ward – Mountain  rockymountain@finnusa.org
James Bland – Texas  texas@finnusa.org
Will Libke – Midwest  midwest@finnusa.org
Noel Miller – South  south@finnusa.org
Al Marshall – East  east@finnusa.org
Upcoming Events
The North American Championship has shifted to Coconut Grove YC in December 2020. Registration is now open for the 2020 North American Championship! Please visit https://www.regattanetwork.com/event/21032
NOTE* Canada Senior Championship at CORK OCR was cancelled due to COVID 19 outbreak.
News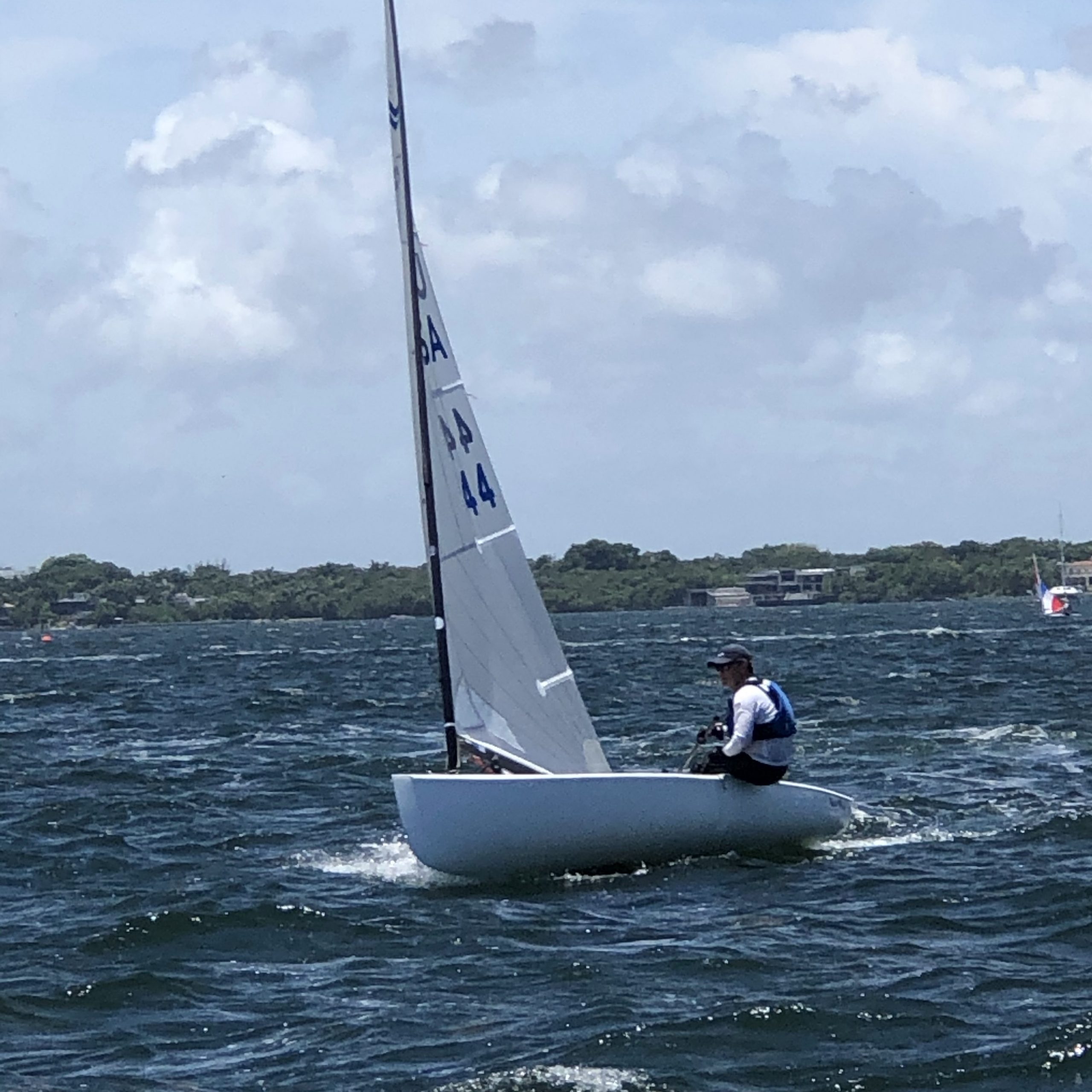 The day started out blustery with 15 to 18 knots of breeze in a warm northerly.  5 boats competed in the 5th of a 6 part series in the Coconut Grove Sailing Club's Miami Finn Fleet Fall Series regatta. Race number 1 was on time at 1130am with Jack Jennings winning the race handily with
This is the home of the North American Finn Sailing where you will find our race calendar, information on regattas, sailing technique and advice, a forum & marketplace plus all the info you need to start Finn sailing.
The Finn is an outstanding boat originally designed by Rickard Sarby for a contest to find a boat for Scandinavian sailing and the 1952 Olympics.  Since then it has been featured in every Olympics.
An outstanding technical boat that favors boat handling and tactics over straight line speed.  With the unlimited pumping downwind in over 10 kts, it is a truly physical boat that rewards the athlete willing to work hard.
Most dinghies are built for smaller stature people but not so the Finn.  The Finn is a big man's boat with average crew weight over 200 lbs.
The great attraction of the Finn is that you don't need a brand new boat to be competitive – top regattas are regularly won by 10-yr-old boats.
A growing route in for sailors on a budget is the 'Classic with Carbon' option – any pre-1985 hull super-charged with a second-hand modern rig. Classic boats are warmly welcomed at all NA Finn Class events and are often seen in the top 10 with the Modern Race Boats.