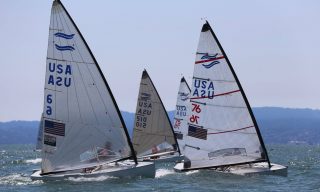 EYC hosts US Finn Nationals on
Latitude 38 SF Bay
by Charles Heimler
After a little rain and monsoon weather on Friday, we had classic Bay conditions Saturday and Sunday. It was a lot of fun, and pretty humbling, to line up against some of the best Finn sailors around," said Mike Kennedy, a Finn sailor and member of Encinal Yacht Club, which took on the task of running this 19-boat event on south of the bridge San Francisco Bay, Anchorage 9.
There were many spectators for the regatta, who marveled at the "free pumping" technique allowed by the Olympic Rules. At 10 knots, sailors may use any type of kinetics to propel the boat downwind. This change from usual racing, in which a sailor must sit still, has made the Finn dinghy one of most athletic boats to master.
Olympic Bronze medalist Caleb Paine attended much of the regatta mentoring the largest group of youth sailors in many years at a Finn Nationals. Seven sailors under 23 sailed in the event with the youngest at 12. Two more at 25, including Kyle Martin, with four years experience in the boat and most recently the recipient of a monthly living stipend from the Canadian Olympic Fund, showed the rest of the fleet the gold standard with bullets in 9 of the 10 races.
Charles Lindsay, 19, who has been part of the USA Finn Association Development program, put together a great series to land 3rd on the program, behind Finn veteran Olympic hopeful, Phil Toth.
Top master and 4th overall was Rob Coutts, 62 from Mission Bay YC, and Super Henry Sprague at 72 finished fifth and won the Legend division.
This was the first summer major Finn event in the United States since last year's Olympic Games, so many of the class stalwarts are taking time off from the competitive circuit. The regatta also marked the beginning of some of the sailors' campaigns to be selected for the Tokyo Summer Olympics in 2020—the Road to Tokyo for the USA Finn effort started on San Francisco Bay.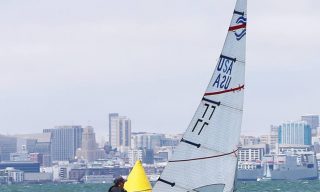 Was This Post Helpful: