When I purchased a Finn in 2010 there were only two (2) regattas in the East Region, and they were both scheduled on the same(!) weekend.
In 2022 there are six (6) regattas on tap. This does not include any structured pickup training sessions such as those some were privileged to attend out of Wild Harbor YC in 2020 & 2021 for example.
Mr. Skip Whyte has since seen to it that Finns are invited to 2 regattas on the New England seaboard. (Wickford & High Performance)
Two clubs in Upstate NY have gone out on a limb, and have invited Finns for the first time. They are located out of Saratoga Lake and Rochester, NY
CORK/Sail Kingston signals that they are only too pleased to learn some Finns are asking to be included in the OCR event.
Attached to this note is a visual of the East regatta circuit. Please note there are three (3) weekends in a row with Finn events. Hopefully, this is set up to be convenient for travel for you. It is possible these events seem far away in the future, and your thoughts are not on sailing yet. But, if you are not a camper, please make hotel reservations asap. It is always possible to CANCEL a hotel reservation with a few days' notice. It's typically much harder to MAKE a reservation in the same short time frame.
With the exception of the Toilet Bowl, just as in government spending & human physiology, the guideline applies:  "If you don't use it, you lose it"  So please think about attending as many regattas as possible, especially at the new venues. You should expect to be in the presence of a lot of youth at Wickford, Saratoga Lake & American YC.  The Finn exposure you create with your participation is a crucial investment in the future of the Finn class.  Willow Bank YC folks: How is the boat-trailer acquisition/build you told me about in 2021 going?
Please read in the NOR for the NAC Masters, that RYC opens its doors to early Finn arrivals. I own a farm, with plenty of parking spaces about 30 minutes south of Rochester Yacht Club. So, you have the option to do the combo platter, CORK-NAC_Masters.  Parking for your boat trailer next to my house is there for bridging these two events. If you choose to leave your tow vehicle too and fly back, I can start up your tow vehicle and drive it around the block every 5 days or so, if you want. ROC airport shuttle is also complimentary.
By Stephen Smeulders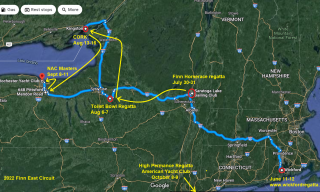 Was This Post Helpful: