The Miami Finn fleet, based at Coconut Grove Sailing Club on Biscayne Bay, started its new winter series on January 4, on a day that recorded record heat, 88 degrees, with a 12-14 knot breeze. Three double windward-leeward courses were run in beautiful Miami sailing conditions. The next winter series event is January 18, when it is expected many of the Olympic-level aspirants in town for the World Sailing Cup Miami will join the fun.
Bermuda's Rockal Evans, who arrived early in Miami to prepare to qualify both his country and himself for the 2020 Tokyo Olympic Games, won all the races, assisted by his coach, World Champion and European Champion Ed Wright of the British Sailing Team.
Awards for podium finishes were gift certificates to West Marine, provided by SKYFREESHOP, world-wide duty free stores in the best airports. Coconut Grove Sailing Club volunteers did a superb job setting the courses and opening up the club for margaritas and quesadillas after sailing.
CGSC will be hosting the Finns monthly throughout the year. Those dates are on the Coconut Grove Sailing Club website.
The Miami Sail Week (Finn East Coast Championship) March 6, 7, 8 will be a three-day event that is part of this iconic Miami regatta series with Coconut Grove Sailing Club, one of the most dinghy-focused clubs in the world, hosting the Finns.
The Miami Sail Weekend three-day regatta is a great prelude to the Finn Midwinters in Sarasota (4-hour interstate drive from Miami) scheduled for March 13,14, 15.
There are plenty of lodging opportunities in Coconut Grove within walking or biking distance from the club. There are also several places to store your boat before, between, and after the regatta days. Contact charlesheimler@yahoo.com for details.
With the Miami Winter Finn Series and the Finn Midwinters in Sarasota, Florida warm water sailing is now a special opportunity for Finnsters to experience summer sailing conditions in Northern Hemisphere winter.
By Charles Heimler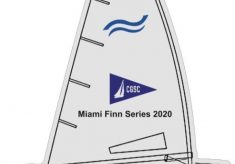 Was This Post Helpful: